The Lake Is Not Closed
Unfortunately, the press headline and state guidelines are impacting use of a wonderful County and State resource.
The results from last weeks test by the county health department provides no relief: The warning has to stay in place due to State standards.:
The DLC believes the risks of recreating are much less than headlines in the Asbury park Press would indicate. The headline in the press last Tuesday was just wrong. Long time lake users see no scum on deal lake, but there is no doubt there is an algae bloom which changes the water color and current meets state standards for a warning.(See July 23 Results)
July 23 Results : CommentsThe Lake Is NOT Closed!
August Meeting with Guest Sen Vin Gopal
The next DLC Meeting will be held on Thursday, August 16th at 7 pm.
We meet at Interlaken Town Hall 100 Grassmere Ave.
The DLC will be discussing the recent warning issued by the Monmouth County Health Department on Harmful Algae Bloom (HAB) in Deal Lake .
Our special guest, Senator Vin Gopal , will join us to talk about NJ DEP standards for HAB alerts.
We will also discuss practical ways that the public and local governments can help to minimize nutrients that feed the Algae.
Thank you for your attention.
Attention: Advisory from Health Dept

The Monmouth County Health Dept is advising people not to canoe or kayak on Deal Lake at this time.
This is due to concerns about blue-green algae which can be harmful to pets or people. Wash your hands well if you come in contact with lake water.
Cyano-bacteria ( blue – green algae) can form when there is a combination of high temperatures and a lot of storm water run off. We have had both conditions this summer.

The DLC is in discussions with the Monmouth County Health Dept on the recent test results and about restrictions on lake use. Additional testing is being conducted in all sections to fully understand the issue and thus restrictions. Current restrictions are based on eastern end results.

The next lake test will be done on Thursday. We should know the results the following day.

You can check our web site
http://www.deallake.org/
for up to date DLC tweets or follow us on Twitter.

We will keep you advised of the condition.

Please share this information with anyone you know who recreates on the lake.
Signs are being posted.

Thank you for your attention.

The Deal Lake Commission
May 27:Flood Warning!
We have had almost 4 inches of rain in the area in the past 7 hrs.
Both gates of the flume have remained open and are fully flowing.
It is likely that those areas or homes that have flooded in the past will flood again. Move as many belongings to higher ground as you can ASAP.
DEAL LAKE CLEAN-UP:
Join us for The Deal Lake Clean Up Saturday, April 14.

9am-12pm

It's Rain or shine Start at the Asbury Park Boat Ramp (next to 7-11 on Rt 71).

Come out and help keep our lake clean! Anytime you can spare would be fantastic. Dress for the weather and bring your favorite work clothes, gloves and older shoes (if you waders please bring them along). Work gloves, trash bags, and tools will be available. Boaters or Kayakers are welcomed!

Lake shore residents: Please Clean up around your area the best you can. The lake will NOT be lowered dramatically for this clean-up.

Do your best to remove trash and unwanted debris on your shoreline. Please ensure the shoreline's nature settings are preserved to prevent erosion and maintain wildlife. If you would like to help out in your section via your boat or Kayak stop over to the boat ramp for nets and bags before you head out by your home.
Please mark your calendar with the Deal Lake Commission meeting dates for 2018.
DLC Meeting Dates
February 15
March 15
April 19
May 17
June 21
July 19
August 16
September 20
October 18
December 6
Meetings begin promptly at 7:00 pm.
Borough of Interlaken Municipal Building
100 Grassmere Avenue
Deal Lake Eastern End Gets An Update
The Eastern End of Deal lake got an attractive upgrade: the DLC planted 30 beach grasses and reseeded the area.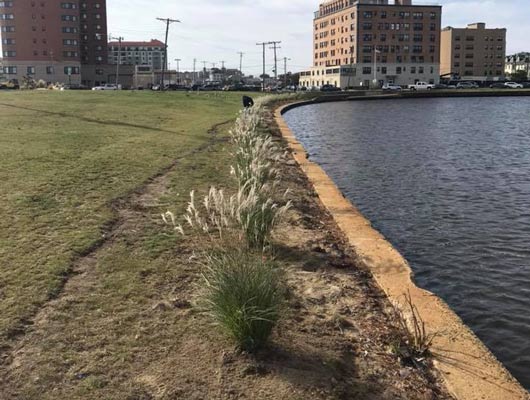 Thanks For Everyone Who Made The Fall Clean Up A Huge Success
The DLC thanks the 120 Plus folks that came out on one Great weather day. 6 separate locations plus two other lakes where cleaned! Deal Lake shores look the best in years! Well over a Ton (2000 pounds) of debris was removed. Most likely it was closer to 4000 pounds with debris removal by lake shore owners and logs removal by the flume yesterday by Mr Todd Rush(Thanks Todd!) Plus we coordinated with our sister Lakes (sunset lake (flows into Deal lake) & Wesley Lake. Both lakes look great after there clean-ups. BIG THANKS to the following:
The 80 Monmouth University students from the BIG EVENT!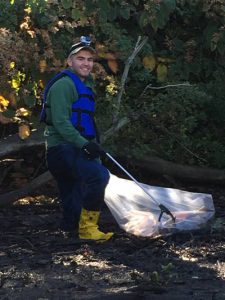 Deal Lake Dock deallakedock.com company for use of their Canoes.
Monmouth County Clean Communities coordinator Will Johnson! A great team mate! He not only brings gear to help but pitches with sweat, lifting all the trash on,then weights it, and then counts bags and then unloads it. THANKS WILL!
Mc Gillicuddy's tap house for the post clean-up food and lite beverage. https://www.facebook.com/McGillicuddysTaphouse/
Colonial Terrace Home Owners group for cleaning the western section of the lake and their partnership with the DLC.
Thanks to our Our Team leaders: Todd Rush, Steve Merlin, Laura McBride, Gene Taetsch, Erin Doyle, Sue Henderson, Keith Fliori, and Don Nissim.
Thanks again….and remember please help stop folks from blowing leaves and debris into your lake! It will help ! Enjoy the photos….look close and you see a Eagle or two. Yes Bald Eagle..even they see the improvements!
Deal Lake Fall Clean Up – October 28!
Where: Start at the Deal Lake Boat Ramp (Next to 7-11 On Main Street in Asbury Park)
When: October 28. | 9am – 12pm
Our seasonal Fall Clean Up is just weeks away. The Deal Lake Commission is hosting a Deal Lake Cleanup in conjuntion with Monmouth University's "Big Event" on October 28. Every fall, approximately 400 members of the Monmouth University community sign up to be a volunteer at one of the 25 to 30 Big Event work sites in the towns that surround campus.
The Deal Lake boat ramp will be one of those work sites. We are also encouraging lakeshore residents to clean their own shoreline of debris during the event. The lake will be lowered for this event.
All are invited to attend and help with the cleanup effort! Click here for the Facebook EventThe October Meeting Date of the Deal Lake Commission has been changed to October 12
PLEASE NOTE: The September meeting has been rescheduled for October 12 at the normal meeting place: Interlaken Town Hall. 100 Grassmere Ave. Interlaken, NJ
Braving the Elements : Deal Lake Clean Up 2017
Thanks to all the volunteers and Lake shore residents who made our Spring 2017 Clean Up A Huge Success.
Attention Lake shore residents:
Deal Lake Do your best to remove trash and unwanted debris on your shoreline. Please ensure the shoreline's nature settings are preserved to prevent erosion and maintain wildlife. If you would like to help out in your section via your boat or Kayak stop over to the boat ramp for nets and bags before you head out by your home.
Deal Lake Fall Clean-up A Huge Success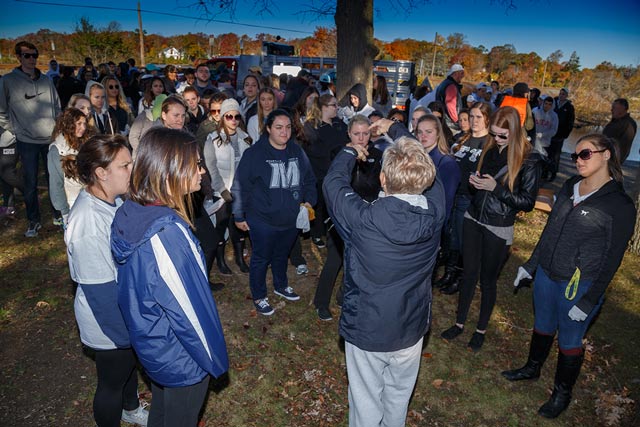 Freeholder Curley and Clean-up Volunteers,
Thanks for stopping by the Deal Lake Clean-up. A big THANKS goes out to over 150 folks that helped clean Deal Lake on a Nov 5th . Groups included; a large group of students from Monmouth University's BIG EVENT, the many Community volunteers, Troop 71 Oakhurst, Colonial Terrace home owners, the Outdoor Club of Monmouth U, and the Asbury Park Environment and Shade Tree Commission. A job well done!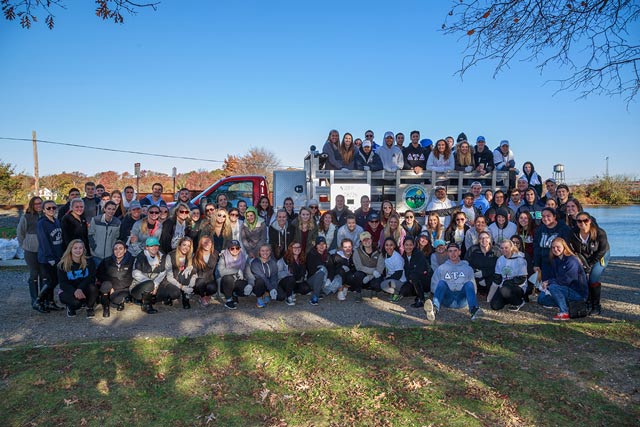 The county's Clean Communities Administrator, Bill Johnson, again gave us great support leading up to the clean-up and during the event. With the counties help, we removed over 4000 pounds of material out of Deal Lake, the largest coastal Lake in NJ.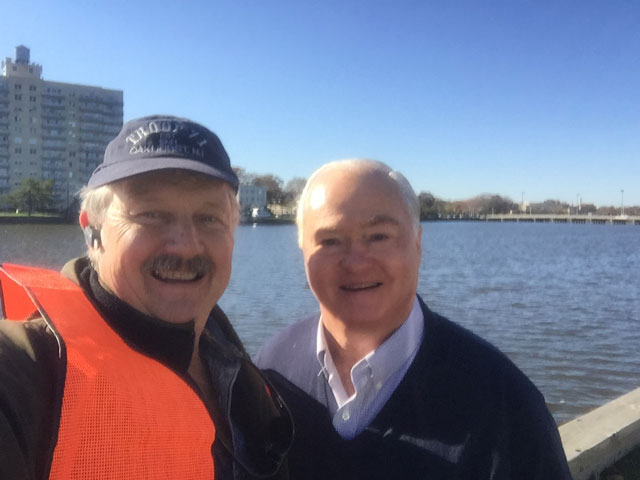 I'm thrilled I live in a county that cares about its resources. My thanks for the county's Bill Johnson's.
Deal Lake is wonderful recreation area for all those in our great county.
Regards,
Don Brockel, Chairman
Deal Lake Commission
A big thanks to over 45 folks that braved mid 30 temps and bone chilling wind to Clean-up Deal Lake for a few hours on Sat morning March 28

th.

As you can see in photos everyone had a good time and took great pride in a cleaner Deal Lake.   A BIG thanks from the DLC. In addition, Asbury Stand-up Paddle Board donated season passes to all participants.  A BIG thanks to  WWW.SUPASBURY.COM for that donation. If you attended and missed the distribution of the passes just visit www.dealalke.org and send the DLC a note from the contact section of the web site.   Any Groups wishing to help out on clean ups of deal lake also drop us a line at www.deallake.org .  Boaters and kayakers can always help out by picking up trash on their travels around the lake.  Thanks.
---
 

Sunday, April 19th – 3rd Annual APFC Carp Contest
All of Deal Lake. 7 am – 12 noon Open to the Public.
  Prizes
  Largest
$75
  Second Place
$50
  Most Caught
$200
  Junior
(Under 12 years of age)
$25
Weigh in at Deal Lake flume before Noon.
View Asbury Park Fishing Club Schedule

---
BIG THANKS to the spring cleanup crew of 60 folks on April 5th . We cleaned the main lake, Lolly pop & Fireman's ponds.  The lake has not looked this clean in a long time.   The crew included local residents from each section of the Ocean, Asbury park, Loch Arbor, Allenhurst, Deal and Neptune. THANKS  A big Thanks to Troop 71 Oakhurst and The Allenhurst Fire department.    In addition to the clean-up you'll either have or will see in tree crew in Ocean removing "Sandy" fallen in the public right of way of the lake.  A big Thanks to Ocean Twp for teaming up with the NRCS to fund this effort    Deal Lake looking great to begin our busy spring and summer recreation period.  Thanks again and enjoy the lake.
Also:  Thanks for Jersey cares for their clean-up efforts on May 3rd. 
---
 Save Jetty Country and Don't Dam the Flume Rally
The ACOE have heard us and few meetings have been conducted with various groups organized by Congressman Frank Pallone.  The DLC still has major concerns that that the replenishment will cause our flume to be jammed with sand that will prevent release of storm waters (cause massive flooding) and prevent fish migration.  The ACOE are now in direct talks with the DLC and others to prevent the flume from being blocked.  The really good news they are actively reviewing their plans to ensure blockage does not occur.  We are awaiting their studies/review for comment.  Notching is also be relooked based on the massive feedback they received, but the ACOE still strongly believe notching helps build beaches, a majority of others family with our Jersey shore believe otherwise.
: UPDATE:  The DLC and the NJDEP has been successful in obtaining over $1 Million is dredging funds to restore the most eastern portion of Deal Lake from the wrath of sandy.  Deal lake is the largest Coastal lake in NJ and largest lake in Monmouth County.   The NJ DEP will manage the project with over site from the DLC.  More details will be leased in the coming months, but we plan to hold off any actions until the summer fall recreation season is over.  See attached for the Grant award.:  VERY Exciting stuff.  Just $5.9 Million more to fully restore Deal Lake to Pre-sandy conditions.

Deal Lake is a beautiful treasure savored by residents, vacationers, fishermen and boaters for over a century. Lenni Lenape Indians would fish and eat the bounty of clams and oysters. During Colonial times the British harvested seafood to be sent back to England. During the Revolutionary War, Patriots would execute small attacks on British ships retreating to Deal Lake for cover from the British Navy as they fired their cannons at them.
Called Lake Uliquecks by the Lenape Indians, an 1781 map shows Deal Lake was known as White's Pond. In the early 1800's it was known as Hogs Swamp Pond. On the 1851 Lightfoot map, it was called Corlies Pond or Great Pond while Sunset Lake was known as Little Pond. An 1873 map calls it Boyleston Great Pond and shows it still is accessible to the ocean. With the engineering completed around 1890, Deal Lake was created as it is known today, closing off the inlet and creating several separate lakes and ponds. Deal Lake was a model system of the late nineteenth century for Flood Control and Storm Water Management. Over time, the lake lured many to build along its banks. Today, almost the entire shoreline has been developed with many homes built within the 100 year flood plain.
The Deal Lake Commission was created by the seven Monmouth County, NJ towns that surround Deal Lake. The Commission was chartered in 1974 by the Borough of Allenhurst, City of Asbury Park, Borough of Deal, Borough of Interlaken, Village of Loch Arbour, Neptune Township, and Ocean Township.
Today, the Commission oversees the vitality, on-going maintenance and restoration to preserve Deal Lake for future generations. Each town appoints one volunteer Commissioner to serve annually. Commissioners give of their time because of their love for this lake and for their desire to preserve this treasure for future generations.

Useful Environmental & Emergency Links 
> Click Here for Flood Insurance Rate Helpline

> Click Here for Useful Information on Proper Leaf Maintenance and its Environmental Impact


Soil erosion Complaint Form.
Complaints can be submitted anonymously by calling 732-683-8500 or faxing 732-683-9140.

New Jersey Department of Environmental Protection Hotline.
The Department has establised a new toll-free telephone hotline number you can use to report environmental incidents, abuses, and complaints in New Jersey. The 1-877-WARNDEP number can be used in the New Jersey, New York, Pennsylvania, and Delaware calling areas.:
108,151 total views, 100 views today